One more maple flavoured recipe if you don't mind…I just love all things maple. Maple Frosted Apple Slab cake is full of cinnamon, ginger, apple and topped with a fudgey maple frosting. The perfect combination for a dessert, or snack, or meal – you choose. There is a lot of fresh apple in this recipe so I think it really should be in the snack category. One can't have too many apple recipes.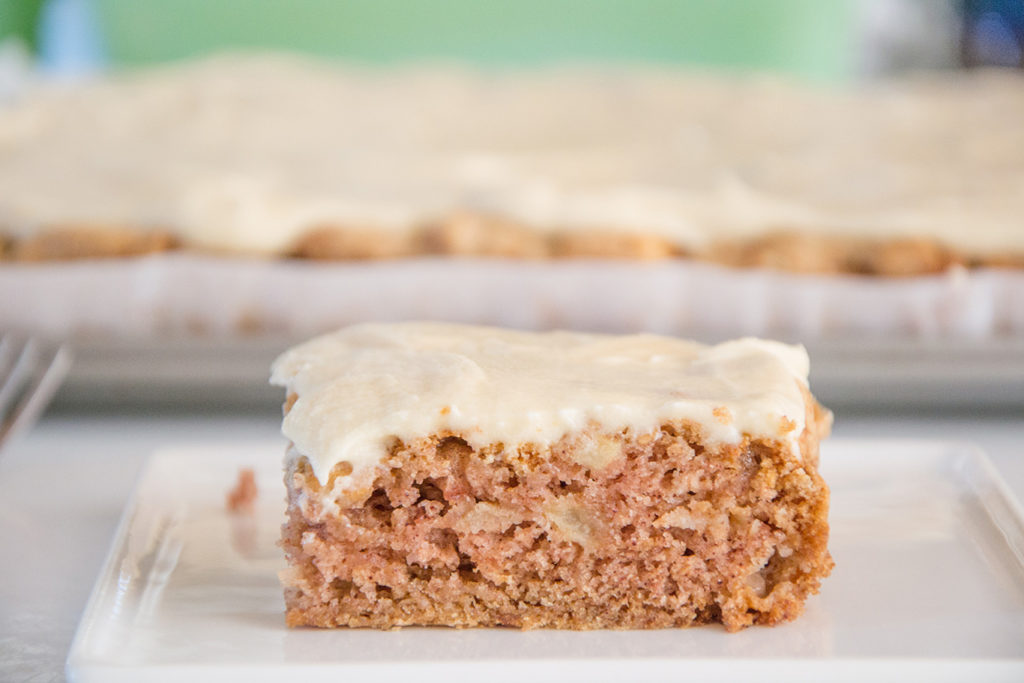 This recipe came about as I had bought a bag of Macintosh apples by mistake. My husband takes a Gala apple every day in his lunch and Macintosh are off his list. What to do with 4 pounds of apples?  First thought Apple Crisp, but I wanted to put this Maple Frosting on something so I kept looking.  Then I found this recipe and knew I had found what I was looking for. It really is more like a brownie than a cake as it is not too thick and very moist. As there is so much fruit in the batter it is best eaten with 2 days and believe me that shouldn't be a problem. If you want you could add raisins or nuts to the batter as well to give it more texture and of course that would also make it healthier.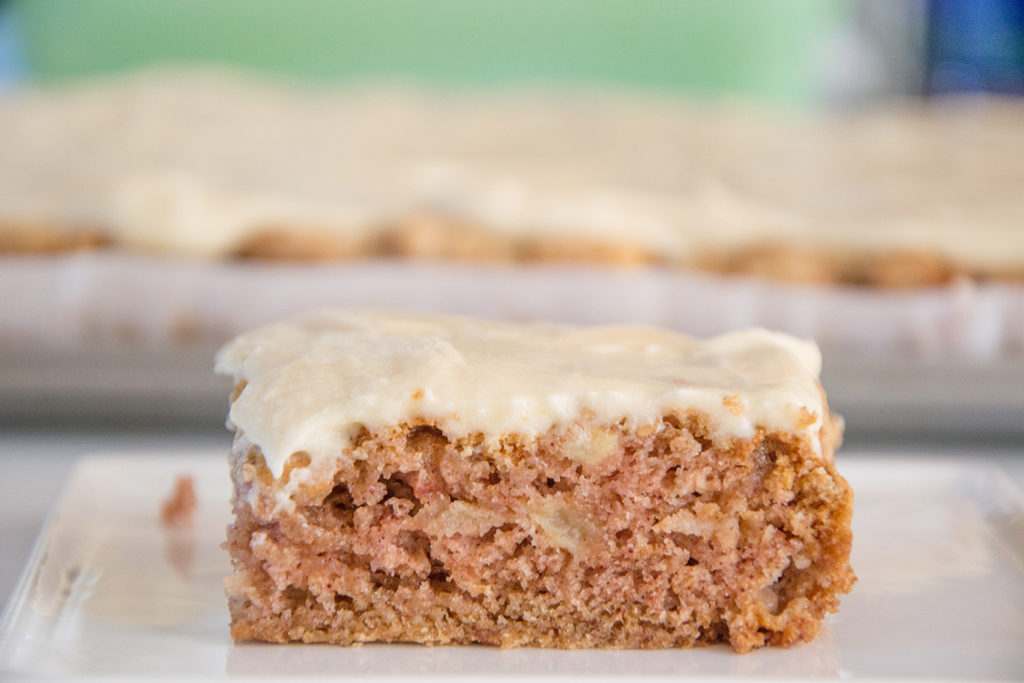 So check out the fruit drawer of your refrigerator and see if there are any apples hiding out. You need an excuse to make this fabulous frosting!

Maple Frosted Apple Slab Cake
Ingredients
2⅓ cups all-purpose flour
1½ cups granulated sugar
2 teaspoons baking soda
¾ teaspoon salt
1 teaspoon ground cinnamon
¼ teaspoon each ground ginger and ground nutmeg
2 large eggs
½ cup canola oil
½ tsp vanilla
4 cups peeled, cored, chopped apple, about 4-6 apples
Frosting:
¼ cup salted butter
4 tbsp pure maple syrup
2 tbsp milk
1½ cups icing sugar
Instructions
Preheat oven to 350℉. Line a 9x13 baking pan with parchment paper.
In a large bowl whisk together the eggs and sugar until light and fluffy, then whisk in the vanilla and oil.
In a separate bowl, whisk together the flour, spices, salt and baking soda.
Add the flour and apples all at once to the egg mixture. Stir with a spatula until the flour is all incorporated. Batter will be very thick.
Transfer batter to lined baking pan and spread into an even layer with a knife or offset spatula.
Bake the cake for 40-45 minutes, or until a toothpick inserted into the centre comes out clean, or with just a few wet crumbs clinging to it.
Remove the cake from the oven and place it on a rack to cool completely; don't remove the cake from the pan.
To make the frosting: Melt the butter and maple syrup in a small pan over medium heat. Add the milk, bring to a boil, and pour into a mixing bowl to cool for 10 minutes. (You can also do this in the microwave)
After 10 minutes, stir in the icing sugar.. Beat well; if the mixture appears too thin, add more icing sugar. Spread on the cooled cake.