I know the combination sounds a little weird but trust me on this one – Brown Sugar Cupcakes with Dark Chocolate Frosting are amazing. The brown sugar gives that slight hint of caramel to the cupcake and the dark chocolate ensures that the frosting isn't too sweet. One of the best things about this cupcake recipe is that you will probably have everything you need to whip up a batch in next to no time. I have been looking for a fool-proof simple white cupcake recipe and I think I've found it in this one. Now you could just as easily use all white sugar in the recipe but I think the bit of brown sugar just gives that depth of flavour that is sometimes missing in a cupcake.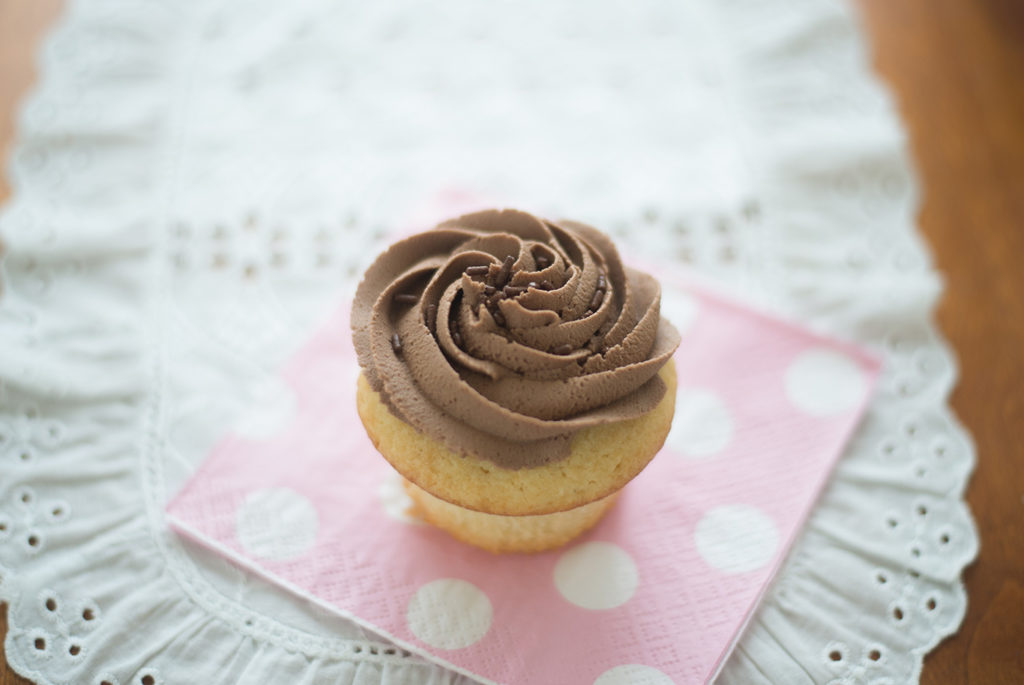 If you want to use this recipe to make a cake it is very adaptable, just double the recipe and bake it in a 9″x13″ or 2- 8″ round pans and adjust the baking time. For me 12 cupcakes are just the right amount of temptation to have in the house at one time. To keep the solve the dilemma over chocolate vs vanilla cupcakes this combination satisfies both camps. The brown-sugar cupcake satisfies the vanilla foodies and the dark chocolate frosting satisfies the chocolate craving.  You can use whatever type of chocolate strikes your fancy, but a good quality dark chocolate ensures that the overall taste experience isn't too sweet.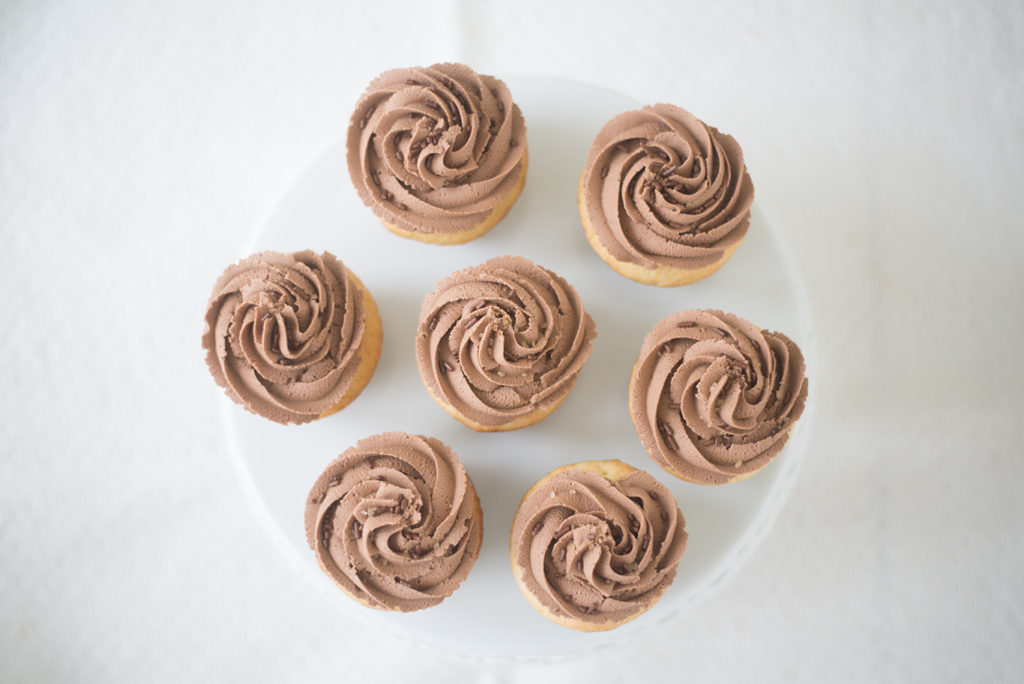 I made a whole whack of these cupcakes for National Cupcake Day for the SPCA and we raised over $300 selling them. So I am quite sure your family and friends will enjoy them as much as mine did.  Come on- time to make cupcakes!!

Brown Sugar Cupcakes with Dark Chocolate Frosting
Ingredients
Cupcakes:
⅓ cup butter- room temp
½ cup granulated sugar
¼ cup packed brown sugar
1 egg-room temp
1¼ cup flour
1¼ tsp baking powder
¼ tsp salt
⅔ cup milk - room temp
Dark Chocolate Frosting
2 oz of dark chocolate, melted
½ cup butter- room temp
4 cups icing sugar, sifted
¼ cup half and half cream
Instructions
Preheat oven to 375 degrees F. Line a muffin tin with 12 paper liners.
In a large bowl beat butter and both sugars together until light and fluffy.
Beat in the egg until well incorporated.
In a separate bowl whisk together the flour, baking powder and salt.
Add the flour mixture and the milk alternately in 3 additions, mixing well after each addition.
Fill the liners ½ full.
Bake 18-20 minutes or until lightly golden and a toothpick inserted in the middle comes out clean.
Let rest in the pan 5 minutes, then transfer to a cooling rack to cool completely.
While cupcakes are cooling make the frosting:
Beat butter and ½ the icing sugar together until light. Add in the melted chocolate once it has cooled to room temp. Add in the remaining icing sugar and the cream. Beat 2-3 minutes until smooth and fluffy.
Frost cupcakes using an off-set spatula or piping bag fitted with a large star-tip.