Well my daughter Elizabeth is home from finishing her first year of Law School! We are so happy to have her home for 2 weeks. Tonight her friends came for dinner and it was so great to have all of the girls around the dinner table again. So when I asked her what she wanted for dessert to celebrate with her friends the answer was carrot cake…so carrot cake it is!
This carrot cake recipe has pineapple in it which makes it extra moist and gives it more flavour.  The raisins add texture as well as a little chew and of course you can't have a great carrot cake without cinnamon- cinnamon just brings it to the next level.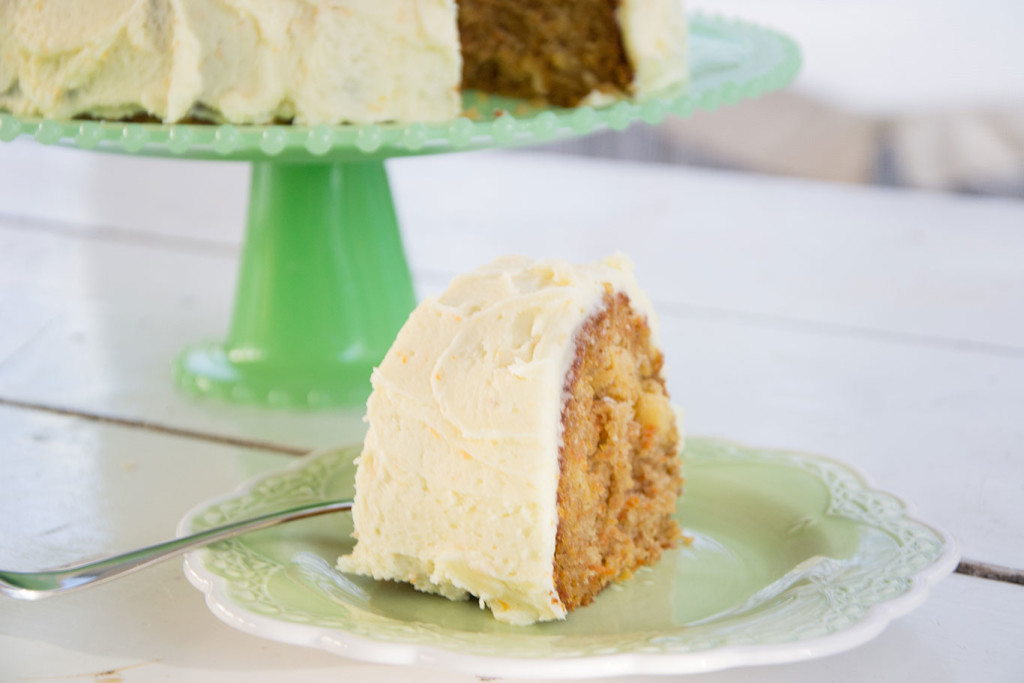 I decided to put a orange frosting on this time instead of the usual cream cheese frosting. It makes it a little lighter and the orange zest brightens up the flavour. This cake is baked in a bundt pan instead of round pans which makes for a pretty presentation.
So dinner with the girls was a blast, Amanda had us in tears as we were laughing so hard at her tales of the trip to the vet with the stray cat that had put up residence in their garage. I missed having the girls together and it was great to see them all together tonight. They are growing up into such lovely ladies and all embarking into either careers or grad school – so very proud of them all!
I wonder what fun the next dinner party will bring!

Carrot Cake with Orange Frosting
Ingredients
Cake
2 cup all purpose flour
2 tsp baking powder
2 tsp cinnamon
1 tsp baking soda
¾ tsp salt
¾ cup packed brown sugar
¾ cup granulated sugar
4 eggs, room temp
¾ cup vegetable oil
1 tsp vanilla
3 cup grated carrots (about 3 large)
1 can (19 oz) crushed pineapple well drained
1 cup golden raisins
Frosting
½ cup salted butter room temp
4 cups icing sugar,sifted
¼ cup milk or cream
zest of one orange
juice of one orange
Instructions
Butter and flour a 10 cup bundt pan very well.
Preheat oven to 350 ℉.
Whisk together first 5 dry ingredients in a bowl, put aside.
In a large bowl, whisk eggs until frothy. Beat in oil and vanilla. Add in sugars and whisk until thick and smooth.
Pour flour mixture over and stir with a spatula just until combined.
Stir in carrots, pineapple and raisins.
Pour batter into pan.
Bake until toothpick inserted in middle of cake comes out clean - about 50 minutes.
Let cool in pan on rack for 20 minutes.
Transfer to rack and let cool to room temp.
Frosting:
Beat butter and half of the sugar in large mixing bowl with hand mixer on medium speed until it comes together.
Add zest, juice and milk and beat until smooth.
Add remaining sugar and beat until fluffy.
Spread over cake.
Cake will keep well covered at room temp for 2-3 days.