SUMMER! Finally the garden's bounty is starting to ripen – the most rewarding time of the year. With so many veggies waiting to be eaten this recipe lets you chop and throw it all together to make a most delicious salad. Summer Salad with Feta has just the right amount of crunch with creamy feta cheese and then the salt of the olives. That just means a bowl of YUM! The yellow and orange peppers are a perfect match for the sweet fresh cucumber and grape tomatoes.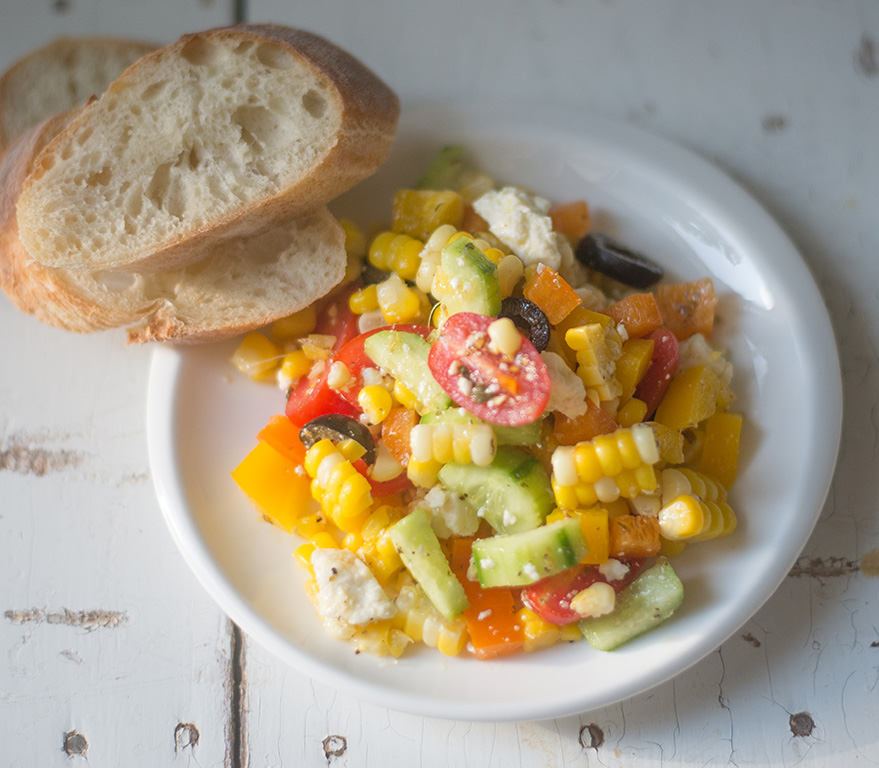 This salad is really a Greek salad except for one ingredient- fresh corn!  When there is a few left-over cobs of corn after a bbq, this is the salad to make.  The corn makes the salad as it adds so much sweetness and even more crunch. You could even add some shredded chicken to the list of ingredients and this salad could easily be a main course. It keeps well refrigerated so you will have lunch for the next day if there are any left-overs, but I doubt it. Don't forget to pick up a fresh baguette to sop up all of those lovely juices and olive oil.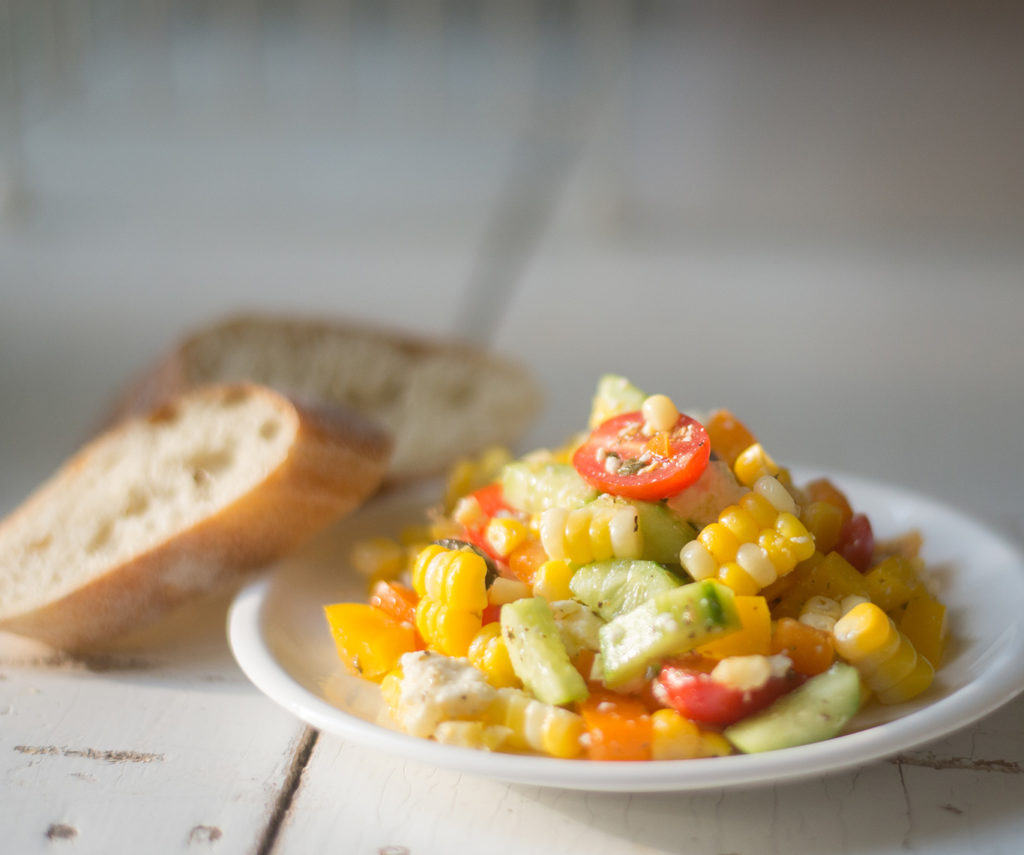 Enjoy the fresh veggies while we have them – summer doesn't last long here in the north so we eat as many fresh dishes as we can during the short season. All of those vitamins and fibre are healthy as well as amazingly delicious!

Summer Salad with Feta
Ingredients
1 orange pepper
1 yellow pepper
1 english cucumber
1 pint of grape tomatoes
½ cup of Kalamata olives, sliced
½ cup of crumbled feta cheese
3 cobs of corn, steamed
¼ cup of olive oil
3 tbsp white wine vinegar
½ tsp oregano
salt and pepper to taste
Instructions
Chop the peppers and cucumbers into small pieces. Slice the grape tomatoes in half.
Cut the kernels off of the cooked cobs.
Combine the chopped peppers, cucumbers, tomatoes and corn in a large bowl.
Add in the crumbled cheese, olive oil, vinegar and oregano.
Toss salad well. Cover with plastic wrap and refrigerate at least 30 minutes before serving.
Season with salt and pepper before serving.