If you are looking for the perfect dessert to celebrate Canada's 150th this is the one- Sponge Cake with Vanilla Whipped Cream and Strawberries!  Delicious sponge cake, layered with vanilla whipped cream and fresh Ontario strawberries – dessert doesn't get much better than this. Did I mention it is red and white?  Canada's colours showcased in a delicious cake that you can make ahead. White- vanilla whipped cream which is a stabilized cream meaning it will keep it's form for at least 24 hours and up to 48 hours. Of course it is cream which means you have to keep it refrigerated.  Strawberries – finally fresh Ontario strawberries to make up the red colour in this decadent cake.  Nothing tastes better than fresh local berries. These ones weren't really local, just Ontario, but we will have local ones for July 1st I am sure. I will definitely be stopping at Emiry's Berry Farm in Massey to get my load of berries for the long weekend!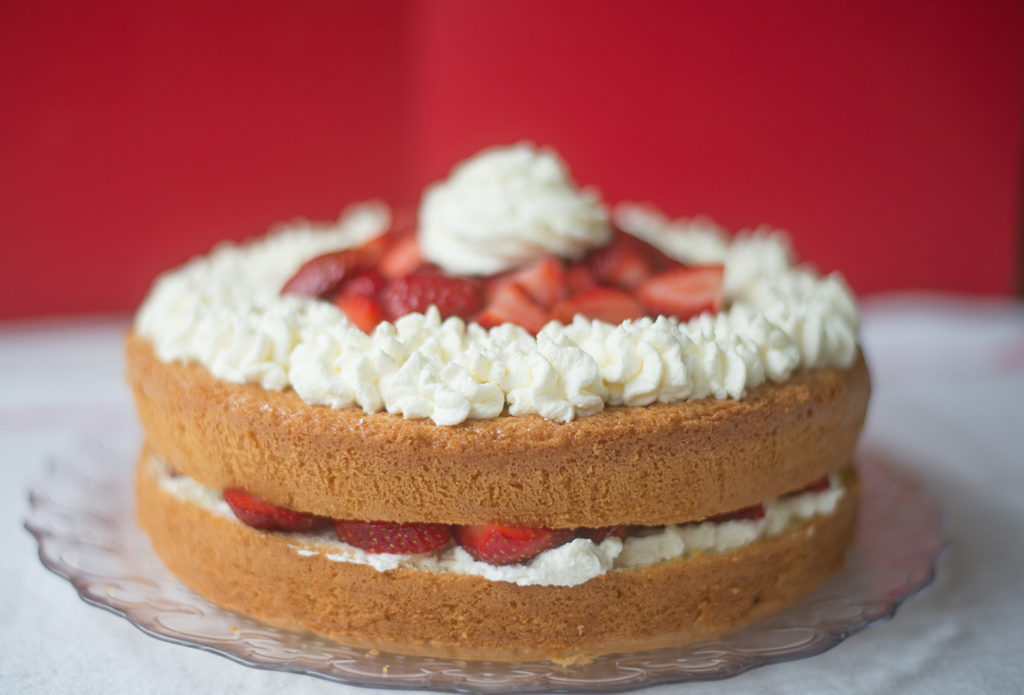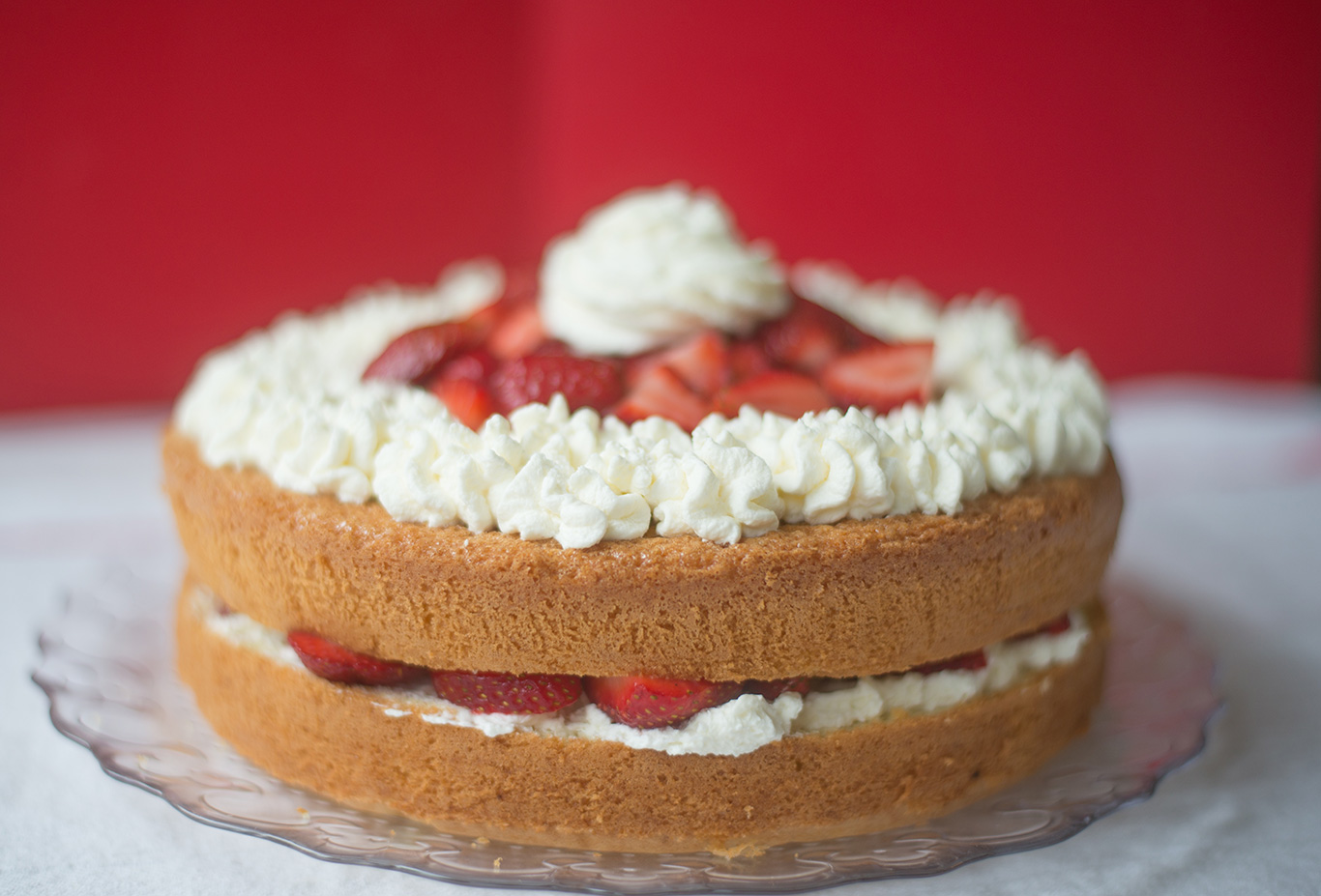 If you are intimidated by the thought of making a sponge cake take the plunge as it really isn't that difficult. The most important point is to make sure your eggs are at room temp. Easiest way to accomplish that is to put them in a bowl of warm water for 5 minutes. After the eggs are pale, thick and falling into ribbons treat them gently and fold the flour mixture in. A trick to this is not to use a spatula, but to use the whisk attachment that you whipped the eggs with- just hold it like a spoon and fold in the flour.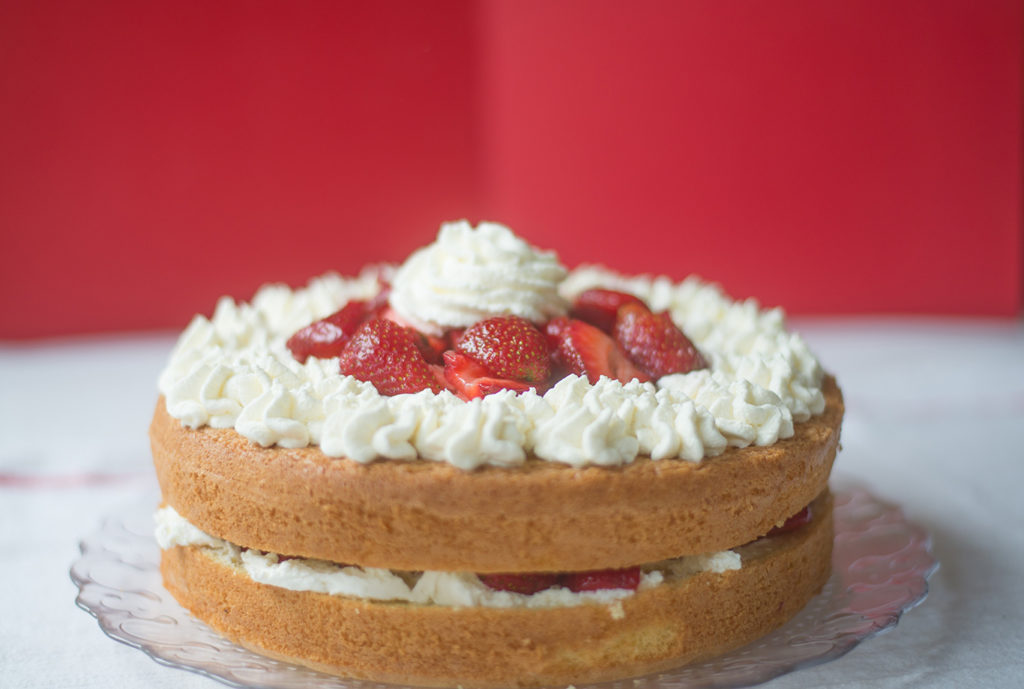 So whether you are hosting a gang or it is just a quiet affair this July 1st – celebrate Canada's 150th with this beautiful and delicious cake. Enjoy!

Sponge Cake with Vanilla Whipped Cream and Strawberries
Ingredients
Cake

6 eggs - room temp
1 cup granulated sugar
1 tbsp lemon zest
1 tsp vanilla
1 cup all-purpose flour
½ tsp baking powder
¼ tsp salt
⅓ cup butter, melted
Vanilla Cream

2 tbsp cold water
1 tsp gelatin (Knox)
1 cup whipping cream
2 tbsp icing sugar
2 tsp vanilla
Berries

2 cups fresh strawberries, washed and sliced
½ cup sugar
Instructions

Cake:
Preheat oven to 325 ℉. Line the bottom of a 9" springform pan with parchment paper. Butter the sides of the pan.
In the bowl of a stand mixer on medium speed, beat eggs with the whisk attachment until foamy. Gradually add the 1 cup of sugar and increase the speed to medium on high. Beat for about 10 minutes or until the egg mixture forms ribbons when you let it fall from the whisk. Beat in the vanilla and lemon zest.
Meanwhile in a separate bowl sift together the flour, baking powder and salt.
Add ⅓ of the flour mixture to the egg mixture and fold in gently. Repeat with the remaining flour mixture.
Then transfer about 1 cup of the batter to a separate bowl and add in the melted butter. Blend gently.
Add this mixture back to the batter and fold in gently.
Pour batter into prepared pan and bake for 35-45 minutes or until the cake top springs back with lightly pressed. The cake will also pull away from the edges when it is done.
Transfer pan to cooling rack and let sit for 10 minutes. Then remove the outer ring and let cool completely.

Berries:
Combine the berries and sugar. Let sit at room temperature until you assemble the cake.

Vanilla Cream
In a small saucepan sprinkle the gelatin over the cold water. Let stand for 5 minutes. Then place the saucepan over very low heat and without stirring allow the gelatin to dissolve.
Set the pan aside.
In a deep glass bowl whip the cream and icing sugar until peaks start to form. Beat in the vanilla. Then drizzle the gelatin into the cream while continuing to beat. Beat until stiff peaks forms.

Assembly:
Cut the cake in half horizontally. Place bottom layer on serving plate. Spread about ½ of the whipped cream onto the cake then layer on about ½ of the berries. Place the top layer on - top side up. Spread or pipe the remaining cream forming a ring around the outside edge. Place the remaining berries in the middle.
Refrigerate until ready to serve.