Rhubarb = Spring, at least in my world it does. Spring also means lilacs which are one of my favourite flowers- the other being lavender. Funny how my two favourite flowers are both purple – not sure what that means! Back to the rhubarb. Rhubarb has to be one of those flavours that you either love or hate and thank goodness everyone in my life loves it because this time of year everything is coming up rhubarb. My rhubarb plant is a sunny protected area of the garden and it just explodes once the warm sun warms up the earth. Before you know it there is enough rhubarb to feed an army.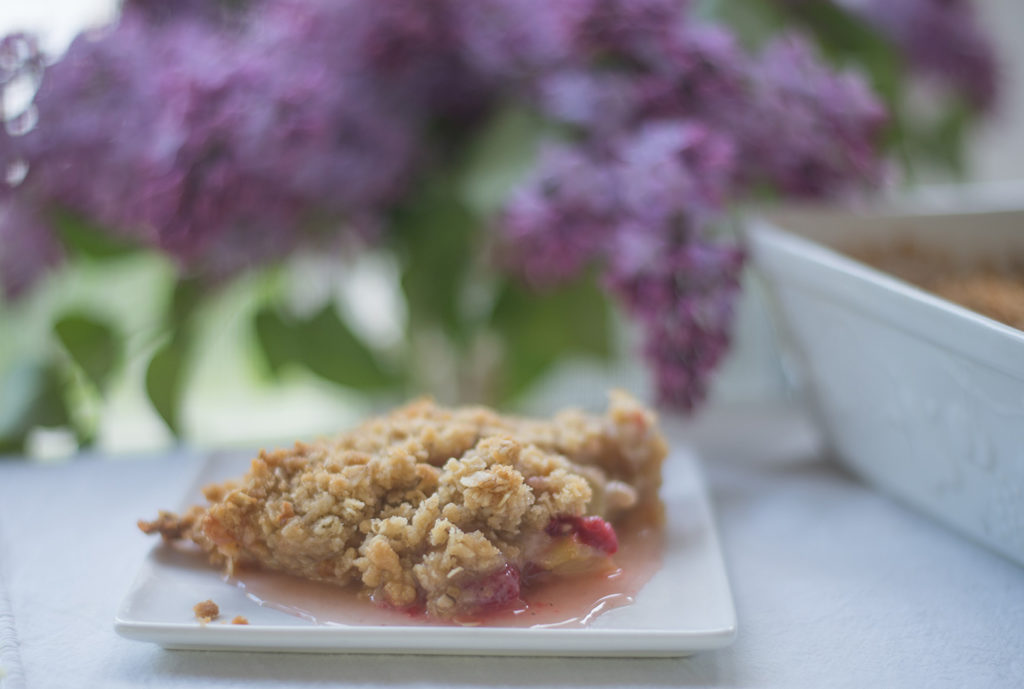 Then once we are talking crisp and rhubarb well now that is perfection in a pan, or in my case more like binge eating. I made this Rhubarb Strawberry Crisp in two versions, the first with strawberries and the second with raspberries and either way it is delicious. Just make sure your berries are fresh and flavourful. The rhubarb flavour dominates the berries, but the undertone of the berries is there.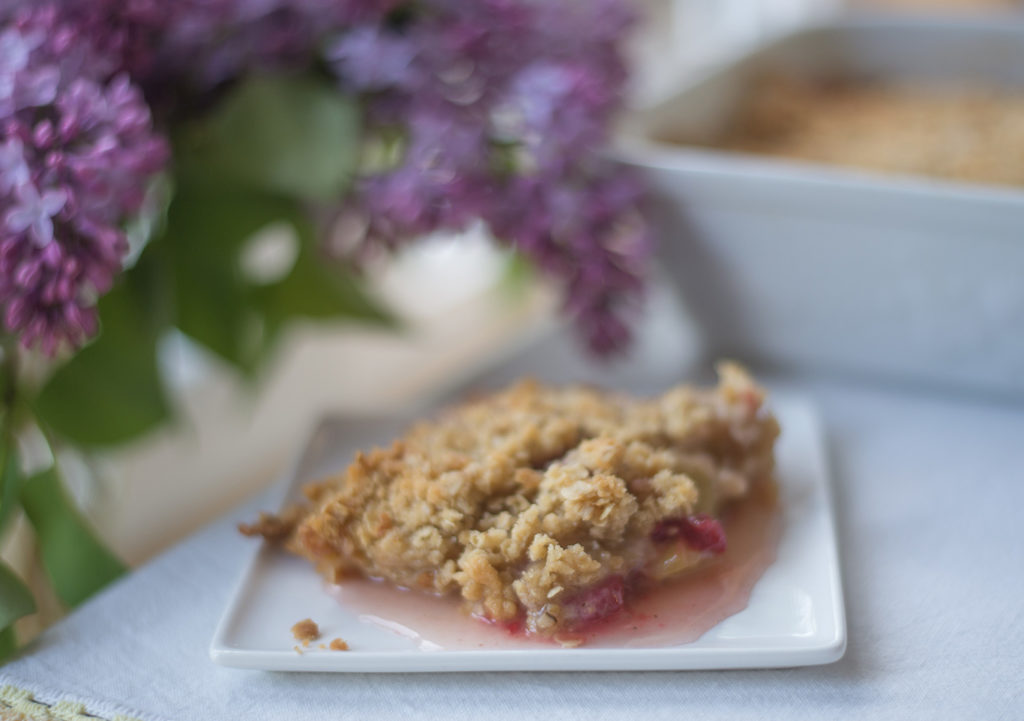 When I served this Crisp still warm from the oven I didn't add any ice cream or whipped cream, but you could definitely do this if you wanted a richer dessert. Without the toppings Rhubarb Strawberry Crisp makes a very acceptable breakfast in my world.  Once you try it, I am quite sure you will agree with me.

Rhubarb Strawberry Crisp
Ingredients
Filling:
2 cups sliced strawberries
4 cups chopped rhubarb
1 cup granulated sugar
3 heaping tbsp cornstarch
½ tsp dried basil
½ tsp cinnamon
Topping:
1 cup flour
1 cup quick oats
¾ cup packed brown sugar
½ tsp salt
½ cup salted butter, room temp
Instructions
Preheat oven to 350℉. Butter a 9 x 13 pan.
In a large bowl combine fruit, sugar, basil,cinnamon and cornstarch.
Pour into prepared pan in an even layer.
In the same bowl combine the flour, oats, sugar and salt. With the back of a wooden spoon or spatula ensure the dry ingredients are well mixed and there are no lumps of brown sugar.
Add in the butter and with a fork mix until crumbly.
Spread in an even layer on the fruit.
Bake 45-50 minutes until bubbling and golden brown on the top.
Serve warm.