The calendar says that today is the first day of Fall, but the thermometer says it is 26ºC! Record breaking temperatures here for the next few days – finally summer has arrived! But the pumpkins are in the grocery stores so that means baking must include roasted pumpkin. Pumpkin Apple Loaf with Crumble Topping has 3 healthy ingredients in it – pumpkin, banana and apple so indulge yourself.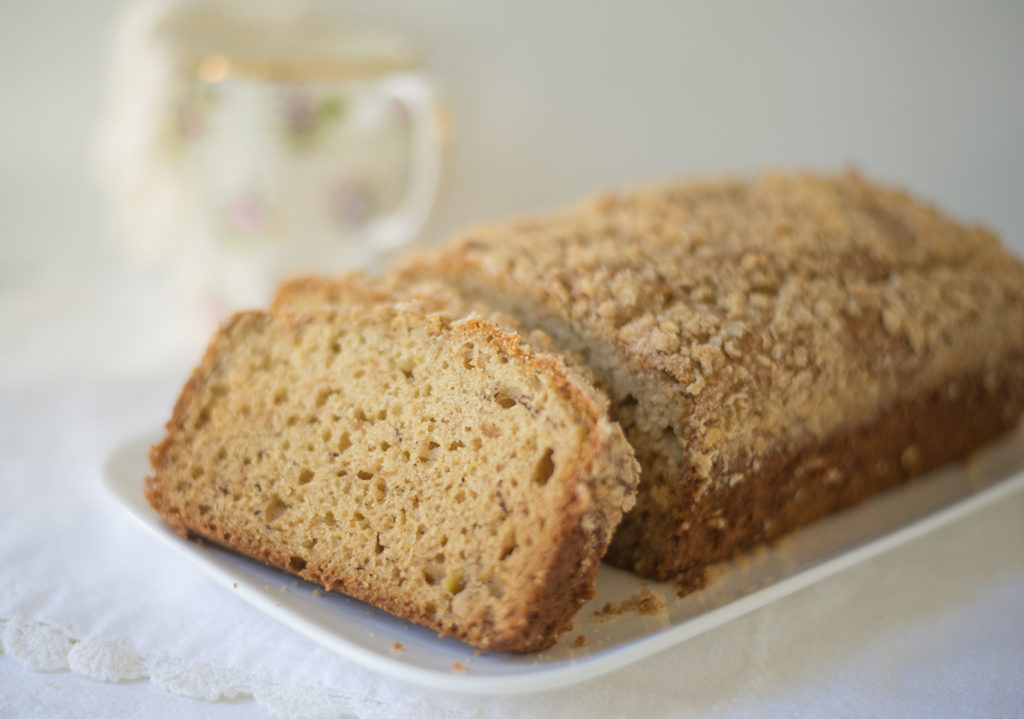 If you haven't roasted your own pumpkin you really have to try this – it is so easy. Just line a baking sheet with parchment paper, cut the pumpkin in quarters, remove the seeds and that's it! Just put it in the oven at 350ºF for 30-40 min until a knife pierces the skin easily.  Let it rest until it comes to room temp, peel off the skin and plop into your food processor and puree. Then you have tasty home-made pumpkin puree to bake or freeze.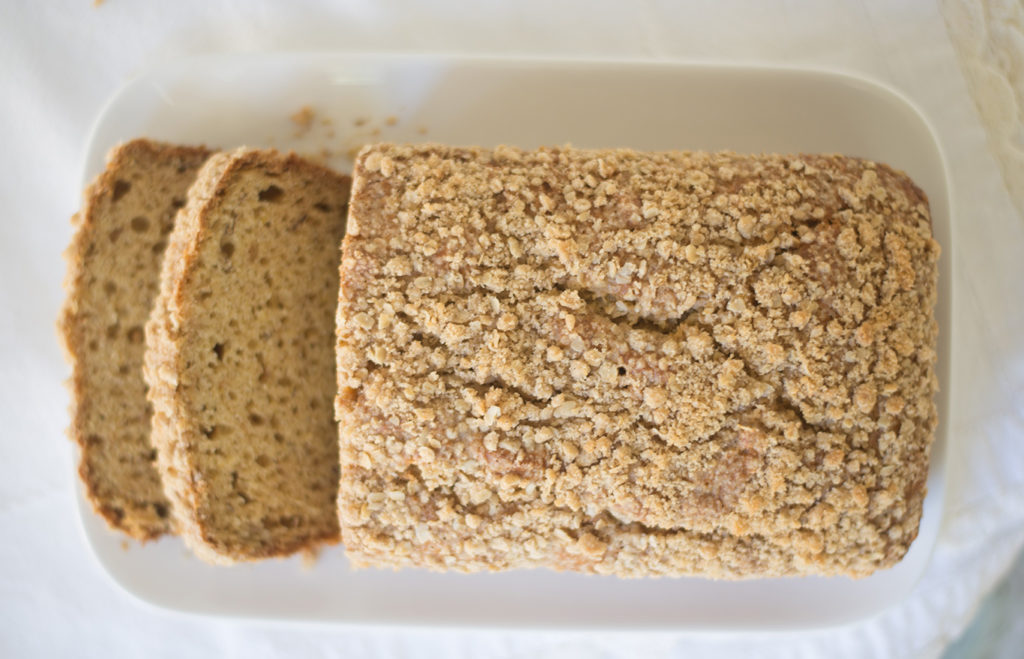 This recipe makes 2 loaves, which as you know is my favourite quantity as that means one for my family and one to share. Pumpkin Apple Loaf with Crumble Topping makes a great snack or even a dessert, but I think it is best for breakfast. Now there is a lot of flavour and spice in this loaf recipe but feel free to add more – I'm thinking that raisins or dried cranberries or even some chopped pecans would add some great texture to the bread. Right now I'm enjoying it with a little butter on it with a cup of tea sitting outside enjoying this wonderful summer-like weather…..happinesss…

Pumpkin Apple Loaf with Crumble Topping
Ingredients
Loaf:
3⅓ cup all-purpose flour
2 tsp baking soda
1½ tsp salt
1 tsp baking powder
1 tsp cinnamon
1 tsp ginger
1½ cups granulated sugar
⅔ cup canola oil
4 eggs- room temp
1¾ cup pureed roasted pumpkin or 1-15 oz can pumpkin
1 ripe banana-mashed
1 large Macintosh apple- grated
Crumble Topping
¼ cup butter- room temp
¼ cup flour
¼ cup quick oats
¼ cup brown sugar
½ tsp cinnamon
Instructions
Preheat oven to 350℉. Butter 2 - 9x5" loaf pans. Butter just half way up the sides.
In a medium sized bowl whisk together the flour, baking soda, salt, baking powder, cinnamon and ginger.
In a large bowl whisk together the sugar and oil. Whisk in the eggs one at a time until light and fluffy.
Add in the pumpkin, banana and apple. Whisk together until well incorporated.
Add in the dry ingredients, mixing in with a spatula until there is no streaks of flour left.
Divide evenly between the 2 loaf pans.
In the medium sized bowl - add the ingredients for the crumble and mix together with a fork until pea-sized clumps form.
Sprinkle evenly on the loaf batter. Press into the batter slightly so the crumble adheres to the loaf.
Bake 50-60 minutes or until a toothpick inserted in the centre comes out clean.
Let rest on baking rack for 30 minutes, then remove carefully from pans and let cool completely.