Pineapple Upside Down cake is one of those old-fashioned recipes that really never goes out of style. It is simple yet elegant enough for a fancy dinner party. I used the cake batter from the Brown Sugar Cupcake recipe and then just blended some butter and brown sugar together to make the yummy caramel topping – which of course is the best part of the cake. Then you just need a can of pineapple slices and you are ready to create this masterpiece.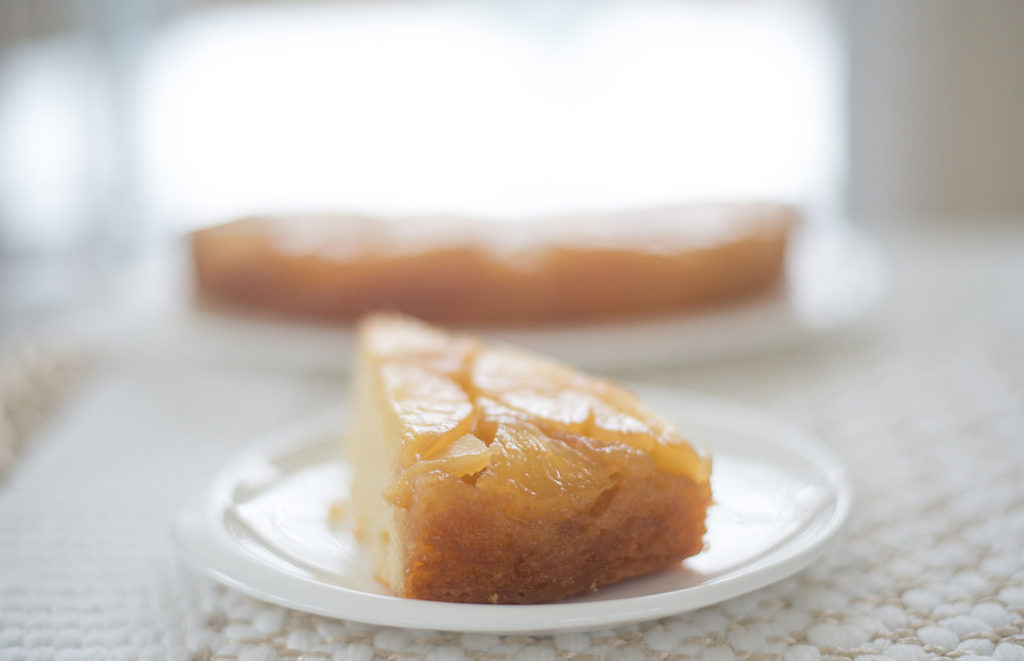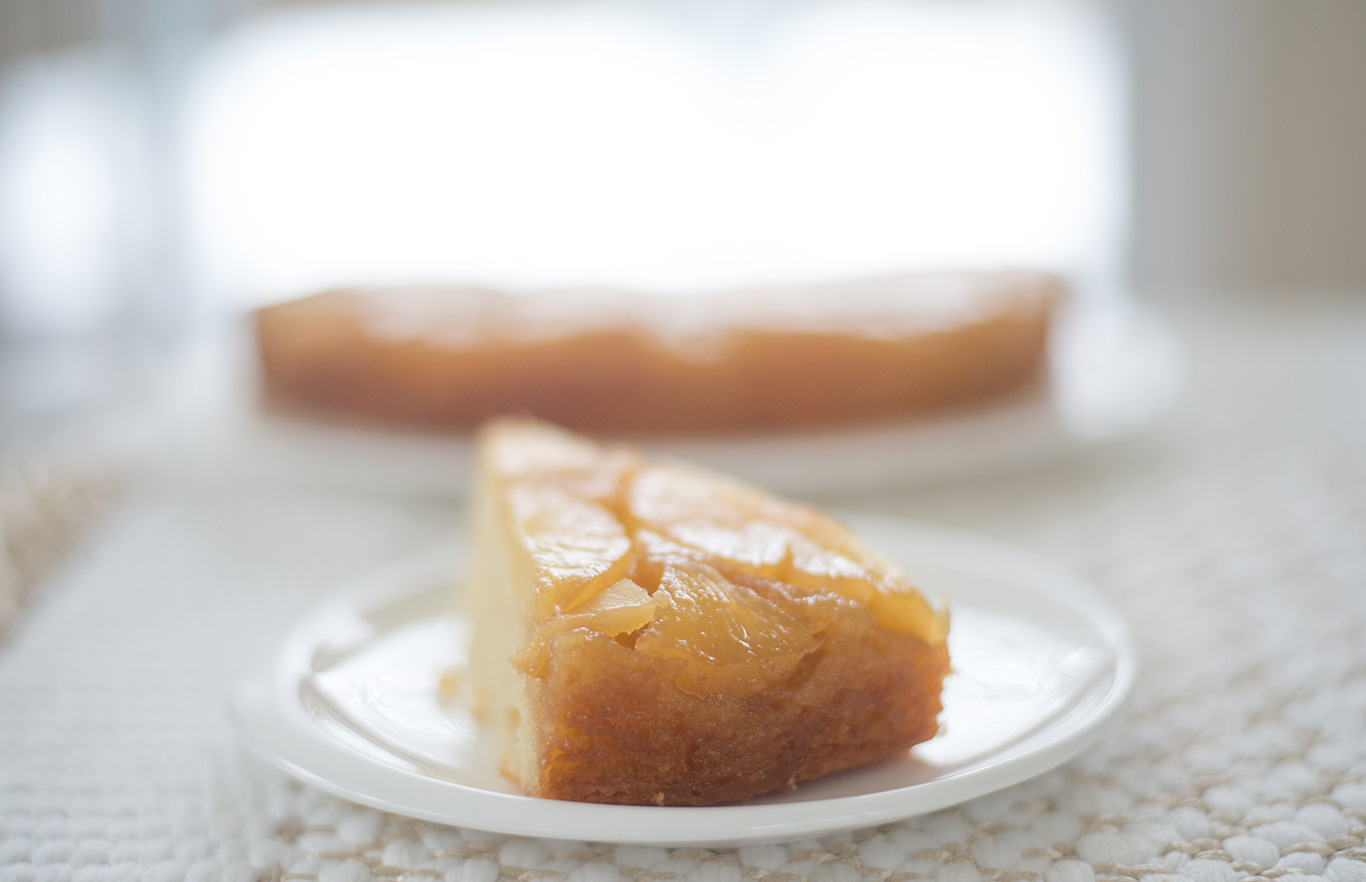 This cake was baked in a round cake pan and I just cut the pineapple slices to fit in the extra spaces. What ever design you do with the pineapple rings just remember that is the design that will show when you flip the cake over after it is baked. The original recipes for Pineapple Upside Down Cake call for putting maraschino cherries in the middle of the rings so feel to do this if you like. I personally am not a fan so I left mine plain – more room for sticky caramel to hide. Also in order to ensure a perfect flip and presentation of the pineapple and caramel ensure you butter your baking pan well and line it with parchment paper. Then once you cool the cake and then invert it, the parchment just peels off the bottom (now the top) to reveal a perfect cake.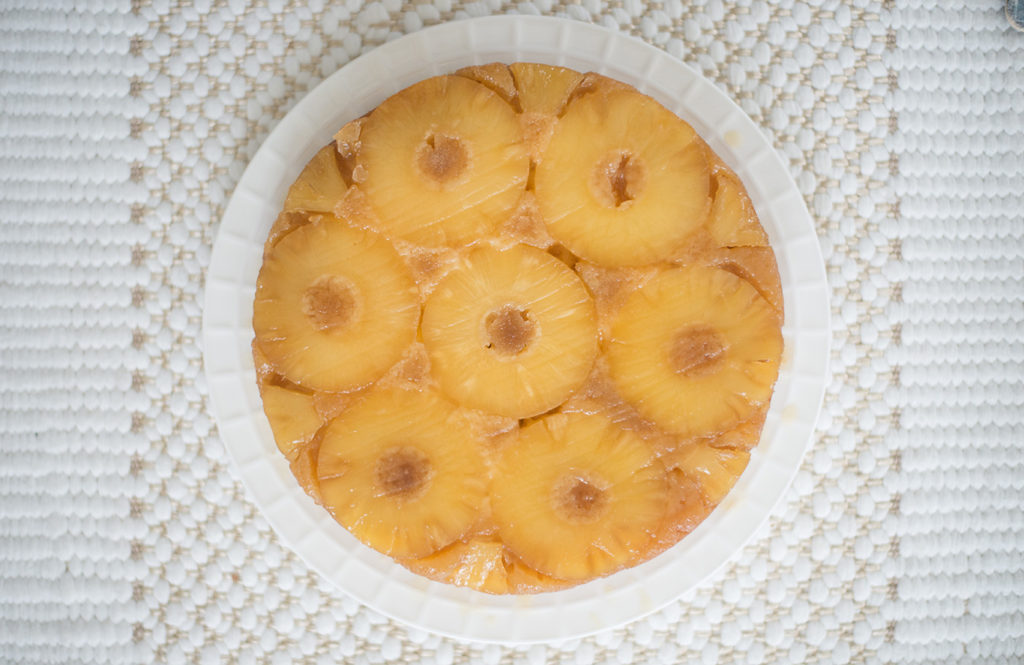 So make your Grandma proud and try this yummy Pineapple Upside Down cake…you won't be disappointed.

Pineapple Upside Down Cake
Ingredients
⅓ cup salted butter, room temp
1 cup brown sugar (lightly packed)
1 can of pineapple slices, well drained
1 recipe of Brown Sugar Cupcake batter
Instructions
Preheat oven to 350 degrees F.
Butter a 9" round or 8" square baking pan very well.
Trace the bottom of the pan on a piece of parchment. Cut out and place in bottom of pan - butter the parchment.
In a small bowl beat the butter and brown sugar until fluffy. Using an off-set spatula spread the brown sugar mixture evenly on the bottom of the pan.
Place the pineapple slices in a single layer on the brown sugar mixture.
Spread the cake batter on top. Place the cake pan on a baking sheet as the brown sugar mixture may bubble over while baking (saves a oven clean-up)
Bake 30-35 minutes until golden brown and the top springs back.
Cool in pan on a cooling rack at least 20 minutes.Run a knife around the outside of the cake before inverting onto serving plate. Peel the parchment off slowly so that the caramel mixture releases evenly.