Well this isn't my standard baking post- it is about baking but no dessert this time, it is all about Baked Sticky Chicken Wings! Once you try this method of making chicken wings you will never bother with frying again. The trick is in the dry rub and the slow bake, then adding a layer of yummy bbq sauce just at the end. Believe me- your family will love these wings.
I have been making my own dry rub mixture for quite a few years now and I used it on everything – chicken wings, brisket, ribs and pulled pork.  The spice combination works wonderfully with both chicken and pork. Once you mix up a batch of the dry rub you can keep in a mason jar and it is ready whenever the bbq itch strikes. The best thing is that you don't need a bbq – you can get the same results using your oven. You can coat the meat with the dry rub just before baking, but you will get a lot more flavour if you coat the meat and then cover and refrigerate for a few hours or even over-night. When it comes to the sauce – this recipe is a road map for a basic bbq sauce so feel free to add whatever strikes your fancy. For those folks who like some heat add chilli flakes or some chilli sauce. Keep some for dipping for those who like their wings extra saucy.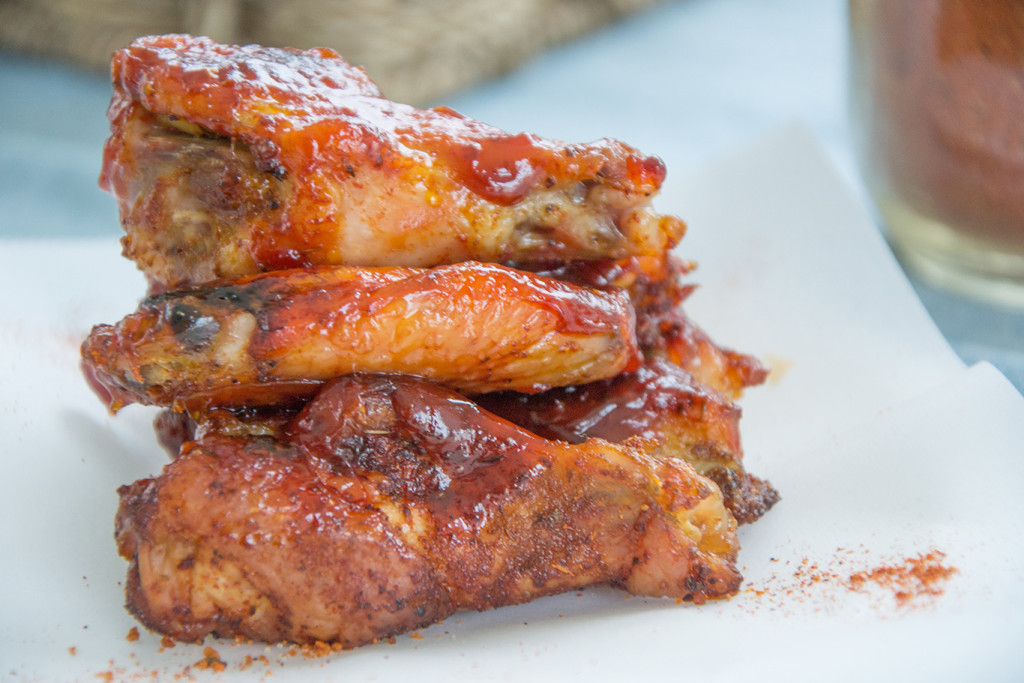 BBQ season is coming but if you still can't find your bbq under all of this snow, try this dry rub and baking method for making the best Baked Sticky Chicken Wings. It is definitely worth the time investment as your oven will do all of the work for you. Enjoy!

Baked Sticky Chicken Wings
Ingredients

Dry Rub
½ cup paprika
¼ cup salt
½ cup packed brown sugar
1 tbsp garlic powder
2 tbsp fresh ground pepper
1 tbsp dried thyme
1 tbsp cumin
1 tbsp dry mustard

BBQ sauce
¾ cup ketchup
¼ cup molasses
2 tbsp mustard
fresh ground pepper
Instructions
Combine all dry rub ingredients in a mason jar. Seal with lid and shake vigorously to combine.
Place chicken wings in a large bowl.
Sprinkle with dry rub a tablespoon at a time, tossing wings to coat. Continue until wings are well coated. This will take 3-5 tablespoons of rub depending on how many wings you have.
Spread wings in a single layer on a parchment lined baking sheet.
Bake at 325 degrees F for 1 hour. Turn wings over and bake another 45 minutes.
During this time mix the sauce in a large glass measuring cup. Just before the wings are due- microwave sauce for 45 seconds, stir, microwave another 45 seconds.
Brush sauce liberally over the wings and bake another 15-20 minutes until sauce is just starting to caramelize.