Baked Oatmeal was something I had never experienced until we had the pleasure of staying at the Captain Swift Inn Bed&Breakfast in Camden, Maine. If you are ever in the area I highly recommend this B&B, the 3 course breakfast  that was served each morning was incredible. The owner, Linda, was nice enough to share her recipe  for baked oatmeal with me and I am now sharing with you!  I have changed her original up just a bit (hope she doesn't mind!). Baked Fruit Oatmeal is an easy and delicious way to make breakfast for a gang. Another option is to bake it Sunday night and you have your breakfast ready to go for the week- just reheat a portion. Either way, enjoy it warm with some milk or maple syrup poured over it or if you are feeling indulgent a dollop of freshly whipped cream and maple syrup. That would be really amazing.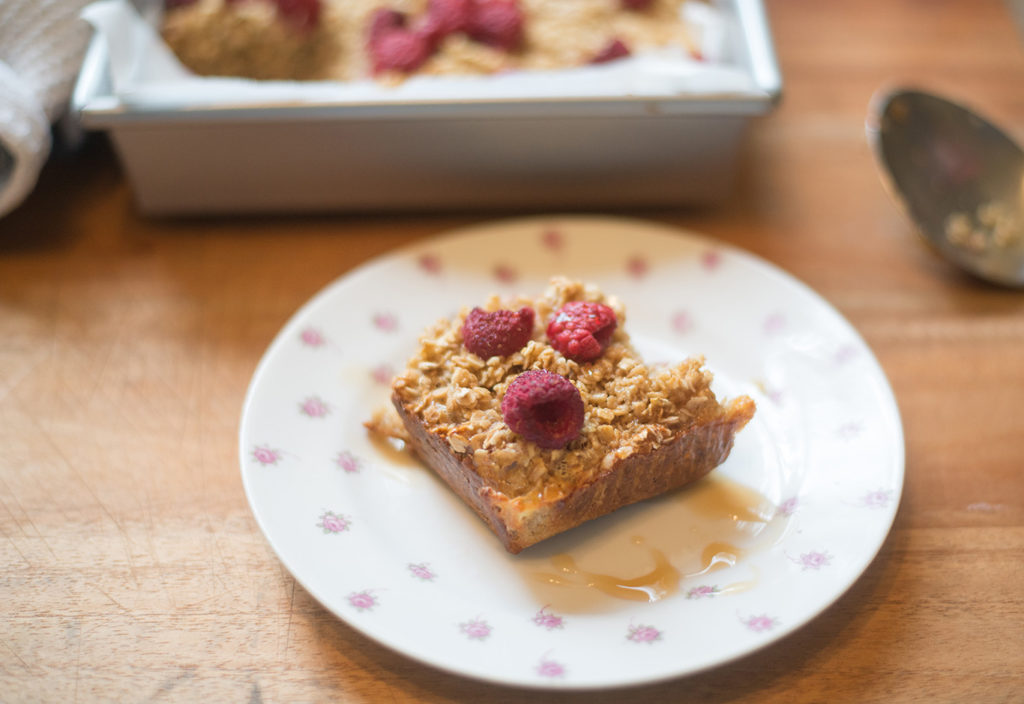 Baked Fruit Oatmeal makes a very delicious and nutritious breakfast with oats, eggs, milk and fruit all baked together. You can add any dried or fresh fruit that you like. For this version I added in raisins to the batter and then I sprinkled fresh raspberries on top. The recipe really lends itself to be very flexible depending on what is in season or your pantry.
If you enjoy your bowl of oatmeal every day for breakfast like I do, this is definitely a recipe you are going to want to try. This is a great breakfast for those wanting a gluten-free option as well. Hope you enjoy!
Baked Fruit Oatmeal
Ingredients
3 cups quick-cooking oats (not instant)
¾ cup packed brown sugar
2 tsp baking powder
1 tsp cinnamon
½ tsp salt
1¼ cup milk
¼ cup canola oil or melted butter
2 eggs
½ tsp vanilla
½ cup dried fruit
fresh berries for the topping
Instructions
Preheat oven to 350F. Line a 9" square baking pan with parchment paper or grease well.
Mix together the oats, sugar, baking powder, cinnamon and salt in a large bowl.
In a separate bowl or 2 cup glass measure mix together the milk, oil, eggs and vanilla.
Add liquid to the dry ingredients and mix well with a fork. Mix in the dried fruit.
Pour batter into prepared pan. Sprinkle with fresh berries, pressing them down into the batter.
Bake 40 minutes or until the edges are golden brown.
Let rest on a cooling rack for 10 minutes, serve warm.