These Cranberry Pistachio Biscotti are a perfect addition to your holiday cookie list – they even have the holiday colours of green and red studded throughout! Be prepared though, if you make them now they probably won't last long and you will find yourself making another batch before the holiday even arrives. Biscotti go so well with a cup of coffee or tea, or even hot chocolate if you are the dunking type. They are not a very sweet cookie, so the flavour of the pistachios and cranberries really shine through.  The orange zest highlights the cranberry even more.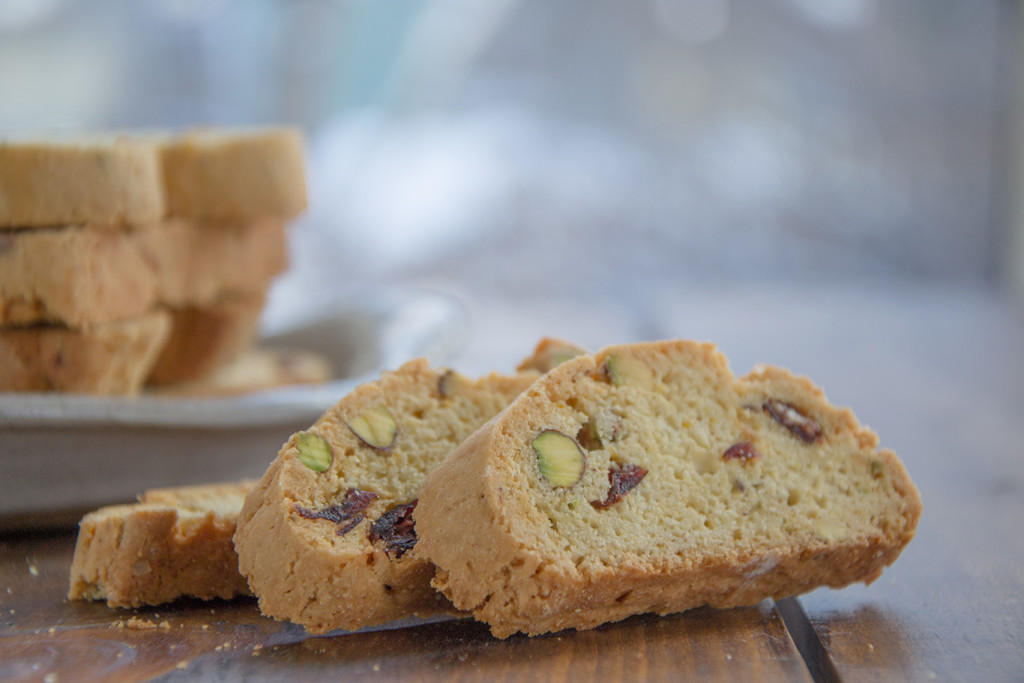 If you read the recipe and think it is difficult, it really isn't. You are actually first making a cookie loaf, then taking that loaf and slicing it into cookies and then baking them again. So really it is just a little more time consuming but believe me the end product will make that extra 30 minutes so worth it. There is no refrigeration of cookie dough, so the extra time in the oven is a wash really.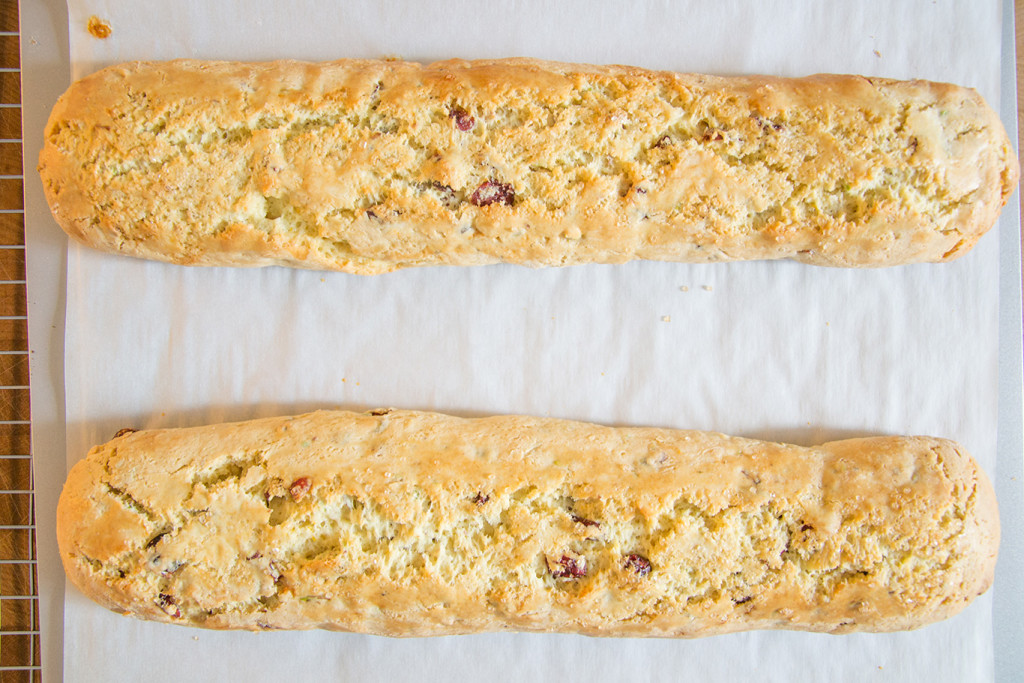 Once you get the hang of baking biscotti there are many variations out there and the flavours and textures are quite different. Hopefully I will get organized and post a few more before the holiday season is upon us. If you like to give baking as gifts during the holidays, these Cranberry Pistachio biscotti are a good choice as they pack well and will stay fresh for at least a week. To fancy them up you can dip one end in melted chocolate and let them dry on a rack – ready to party! But the big guy will be just as happy with plain ones right out of the tin…just guessing..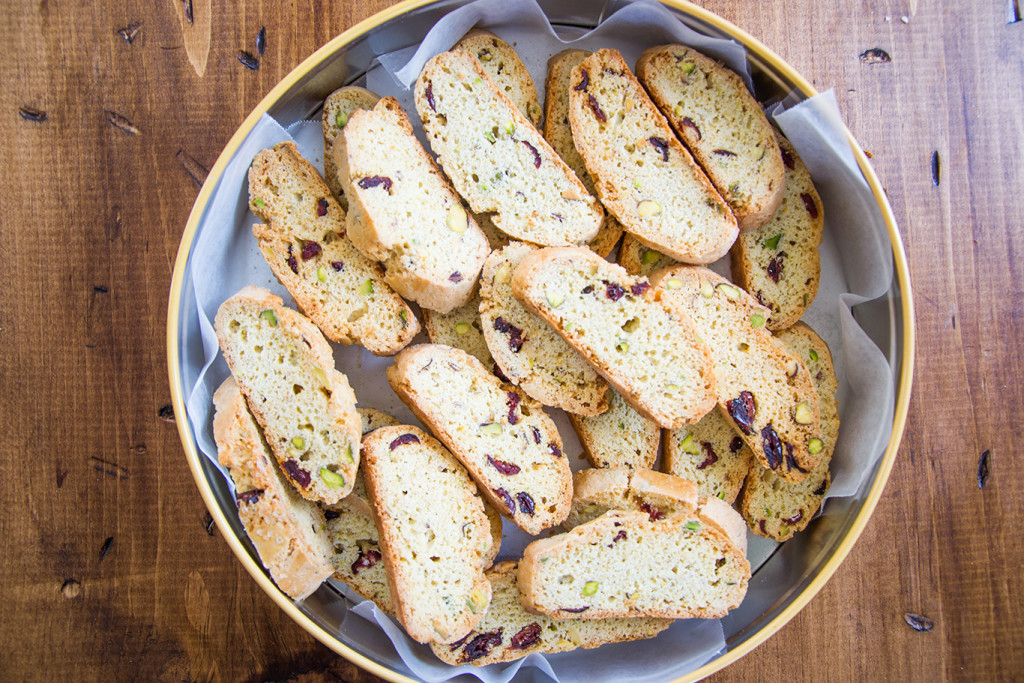 Cranberry Pistachio Biscotti
Ingredients
3 cups all-purpose flour, plus more for dusting
2 teaspoons baking powder
¼ teaspoon salt
¼ cup butter, room temperature
1 cup sugar
zest of an orange
3 large eggs- room temp
1 teaspoons vanilla
½ cup unsalted pistachios, coarsely chopped
½ cup dried cranberries
1 egg white
2 tbsp sanding sugar
Instructions
Preheat oven to 375 degrees. Line a large baking sheet with parchment paper.
Whisk together flour, baking powder, and salt into a medium bowl; set aside.
In the bowl of a stand mixer fitted with the paddle attachment, beat butter, sugar and orange zest on medium speed until light and fluffy, about 3 minutes. Add the 3 eggs, one at a time, beating after each addition. Scrape down sides of bowl and mix again. Beat in vanilla.
Add the flour mixture, and mix on low speed until about ½ mixed in. Add in the cranberries and pistachios.
Flour counter well and turn out dough. With floured hands form into a log,divide in half. Shape each piece into a 16-by-2-inch log, and transfer to prepared baking sheet, placing about 3 inches apart. With your hand, flatten logs slightly starting in the middle and working out to each end.
Brush beaten egg white over surface of the dough and sprinkle with the sanding sugar.
Bake, rotating sheet halfway through, until logs are firm to touch and golden brown about 25 minutes. Slide the parchment paper with the logs on to a wire rack to cool slightly, about 20 minutes. Meanwhile reduce oven temperature to 300 degrees.
Carefully transfer the logs to a cutting board. Using a serrated knife, cut logs crosswise on the diagonal into ½-inch-thick slices. Place slices on a baking sheet cut side down. Arrange slices, cut sides down. Bake 15 minutes then flip over and bake a further 15 minutes. Transfer sheets to a cooling rack.
Let biscotti cool completely on rack. Biscotti can be kept in an airtight container at room temperature for up to 1 week.
adapted from a recipe by
Martha Stewart