It was a spectacular weekend at camp. The weather was hot, 30ºC, almost too hot for me.  It is sometimes hard to believe that 6 months from today, it could be -30ºC!  What a wonderful place Northern Ontario is.  It has been so hot, windy and dry that the wild blueberries have been hard to find this year.  The berries in most of my usual spots have been all dried up, but I got lucky and the one just down the road had some under the trees in the moss.  I picked 4 cups, enough to make something….what should I make with my valuable commodity?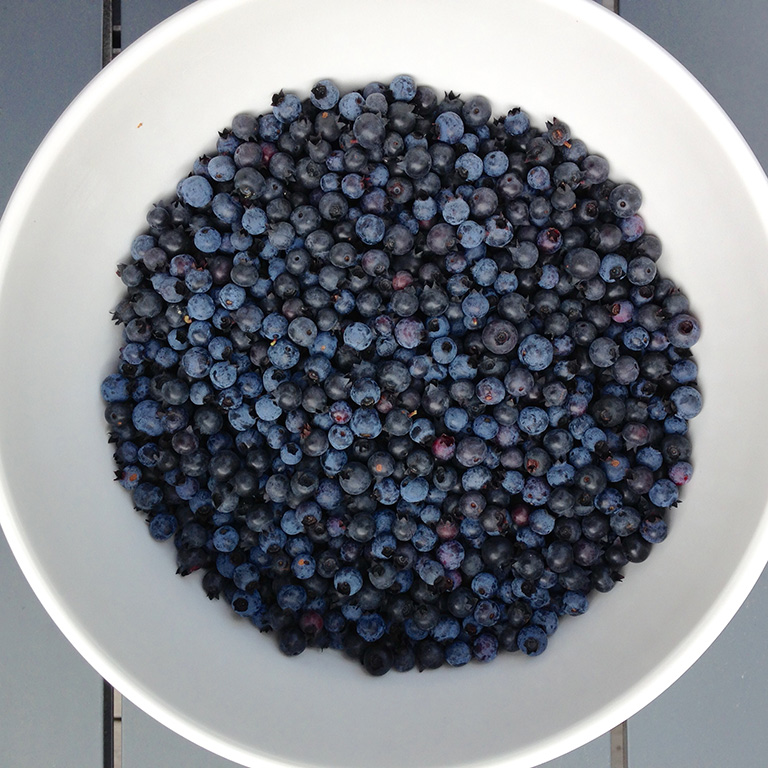 The decision Blueberry Zucchini Loaf…a quick loaf full of shredded zucchini, lemon zest and my wild blueberries.  This recipe makes 2 loaves so 1 to eat and 1 to freeze or share. As with most quick breads this is mixed by hand in a bowl, no appliances required, other than a box shredder for the zucchini if you consider that to be an appliance.
This is the perfect snack to take on a picnic lunch while fishing and that is exactly what we did with our Blueberry Zucchini loaf.  Thank goodness that the loaf made it into the cooler, because I forgot the rest of the containers that had the salads in them. We survived the day and so did the fish as we didn't even catch one!
I hope you have the opportunity in your neck of the woods to enjoy wild blueberries and make something yummy with them, or just enjoy them one at a time – a burst of wonderful.

Blueberry Zucchini Loaf
Ingredients
3 eggs, lightly beaten
½ cup vegetable oil
½ cup regular yogurt
1 teaspoon vanilla extract
zest of one lemon
1½ cups white sugar
2 cups shredded zucchini
3 cups all-purpose flour
1 teaspoon salt
1 teaspoon baking powder
¼ teaspoon baking soda
1 cup fresh blueberries
Instructions
Preheat oven to 350 degrees F (175 degrees C). Lightly grease 2 loaf pans.
In a large bowl, beat together the eggs, oil, yogurt,vanilla,lemon zest and sugar. Fold in the zucchini.
In a separate bowl, whisk together the flour, salt,baking powder and baking soda.
Sprinkle dry ingredients over the wet and stir until almost combined.
Gently fold in the blueberries. Divide equally between the 2 pans and smooth the tops.
Bake 50 minutes in the preheated oven, or until a skewer inserted in the center of a loaf comes out clean. Cool 20 minutes in pans, then turn out onto wire racks to cool completely.